Meet Our Founder & Owner – Mr. Robert Vanni

Mr. Vanni is the founder and owner of Midwest Ecological, Inc. His experience is in wetland investigation, natural areas assessment, environmental permitting, wetland mitigation design, wetland maintenance, restoration and monitoring.
Mr. Vanni has worked within the Environmental field within the Chicago District for 19 years.
He has participated in over 200 wetland delineations, 100 Army Corps of Engineers Wetland Permits and the resolution of over 15 U.S. Army Corps of Engineers enforcement actions and holds several certifications in the wetland field, inclusive of Certified Wetland Specialist.
Treat the earth well. It was not given to you by your parents, it was loaned to you by your children" – Native American traditional
What Midwest Ecological Inc. Specializes in
– Wetland Assessments, Delineations & Permitting
– Erosion & Sediment Control
– Native Landscaping Design & Management
To learn more about our services please review the detailed information below.
Thank you for considering Midwest Ecological Inc.
Contact Midwest Ecological Inc.
sales@midwesteco.com
Direct 847-278-4610
Fax 847-278-4611
Toll Free 888-248-0981
Mailing Address
PO Box 321
Gilberts, Illinois 60136
Our Coverage Area
Midwest Ecological Inc. Services
Wetlands & Permitting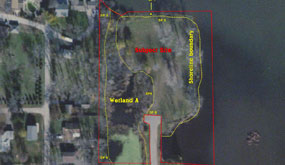 Midwest Ecological, Inc. (MEI) personnel are experienced in wetland delineation methodology and procedures, plant identification and wetland permitting. Our staff is trained and knowledgeable in identifying and evaluating the three wetland criteria: vegetation, soils and hydrology, ensuring our wetland delineations are fair and objective. We have extensive experience working with the 1987 Corps of Engineers' Wetland Delineation Manual, Midwest Regional Supplement (2008) and Natural Resources Conservation Service's 1998 Wetland Mapping Conventions. In addition to federal guidelines, we at Midwest Ecological Inc. are well versed in county and municipal wetland regulations and permitting requirements for the greater Chicago area.
Wetland-related Services:
– Wetland Assessments & Delineations
– Impacts Permitting
– Mitigation Design
– Restoration and Enhancement
– Management and Maintenance
– Monitoring and Reporting
We at Midwest Ecological Inc. are knowledgeable and experienced in assembling comprehensive permitting plans, tailoring each to the specific project. We are versed in federal, state and local regulations and can advise on and devise a thorough and concise solution to any wetland permitting need. We frequently work with the following entities and regulations:
Federal
US Army Corps of Engineers
US Department of Agriculture Natural Resource Conservation Service
US Department of the Interior Fish and Wildlife Service
– Endangered & Threatened Species Consultation
– Indiana bat surveys
State
Illinois Environmental Protection Agency
– Section 401 Certifications & Prescribed Burns
Illinois Department of Natural Resources
– Endangered & Threatened Species Consultation

Illinois Historic Preservation Agency

County

Kane County Department of Environmental Management

– Stormwater Permits
– Kane County Review Specialist # W-081

Lake County Stormwater Management

– Stormwater Permits
– Lake County Certified Wetland Specialist #C-059

McHenry County Planning Department

– Stormwater Permits
– Mchenry County Certified Wetland Specialist

DuPage County Department of Environmental Concerns

– Wetland, Riparian & Special Management Submittals
Erosion & Sediment Control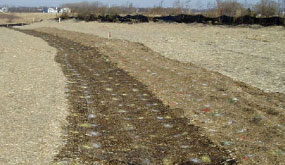 Midwest Ecological Inc.'s personnel provide extensive Erosion and Sediment Control (EC/SC) services to satisfy National Pollution Discharge Elimination System (NPDES) Permit requirements and Stormwater Pollution Prevention Plan (SWPPP) guidelines. Our staff is trained to inspect EC/SC devices installed on-site to determine that they were properly installed and operating per approved SWPPP plan and site conditions. Our EC/SC staff is certified as Designated Erosion Control Inspectors (DECI) of Lake County and Certified Professional in Erosion and Sediment Control (CPESC).
Our services include site inspections and reporting per NPDES Permit and local guidelines, implementing and maintaining EC/SC practices and products, maintaining records of site activities and monitoring, updating SWPPPs as necessary and preparing treatment trains for critical areas.
Erosion and Sediment Control Services:
– EC/SC Monitoring, Reporting and Maintenance
– NPDES Permitting
– SWPPP Development & Installation
– DECI and CPESC Certified
Native Landscaping & Management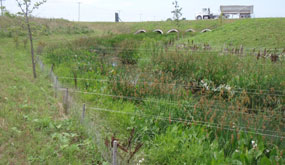 Midwest Ecological Inc. prides itself on providing the highest quality Native plants direct from the nursery to your project site. We handle only native species indigenous to the Midwest prior to European settlement. This allows us to minimize the introduction of nonnative and/or aggressive invasive species to the planting area that can destroy wetland and prairie plant communities and contaminate native seed banks. We have an exclusive partnerships with local Native Aquatic Nurseries that we cultivate, harvest and separate their own seed. In addition, all live plant installations are grown locally from seed to mature plant, never being harvested from the wild. Each seed mix that we install is created on a project by project basis based on specific site conditions.
Midwest Ecological Inc. can provide all of the expertise, materials and labor for your native landscaping project. We have extensive experience in performing native landscaping for restorations, site stabilization, mitigations, basin naturalizations and enhancements. Once installed, our experienced management team can implement a maintenance plan specific to your native landscape's needs.
Native Landscaping Services:
– Native Area Plantings, Monitoring and Reporting
– Detention Basin Naturalization
– Nursery-Direct Installation of Native Plants and Seed
– Native Area Management, Including Invasive Species Control
– Prescribed Burning
– Licensed Herbiciding
– Native Area Mowing and Hand-Weeding
– Debris Removal